Resurrecting Davis Dreamer
Created: 06.13.2007 - Updated: 06.13.2007
This is Davis Dreamer the father of Darren Dreamer and grandfather of Dirk. In the game files Davis has an incomplete character data file. To resurrect him we have to replace the missing files with SimPE. I will be assuming that you are familiar with how to start SimPE, load a neighborhood, and find a sim description file. If you don't know these things, there are other tutorials already done that you can learn these skills. You can find them at the SimPE website and on the exchange.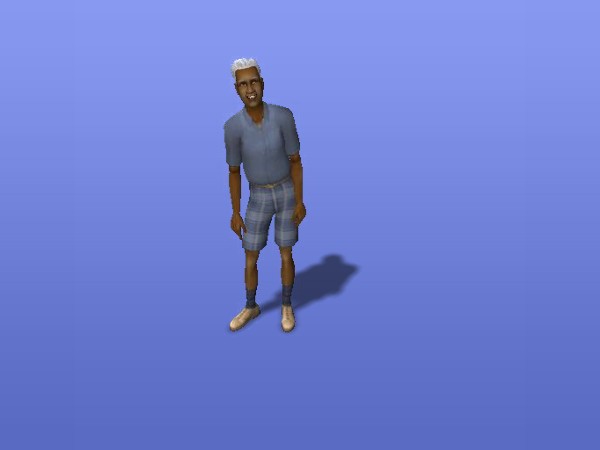 So let's get right to work resurrecting Darren's dear old dad. What you see here is not Davis Dreamer, but Davis Dreams. He is a replica of Davis that I created. We are going to extract files from his character data to give Davis Dreamer to complete his character file. (I will have a replica like this in my uploads. Download it and install it in your game. Go to CAS to get him and put him in the sim bin. Once he is in the sim bin you will find his file in SimPE just like this one.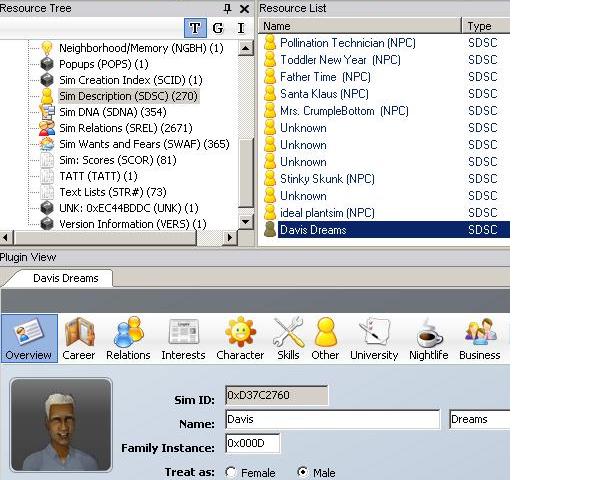 Go to the More tab in the Davis replica and click on Open Character File.
As the character file opens you will see files that look like this. Click your mouse anywhere in the right window and press Ctrl A. All the files in the right window will be selected. See way at the top menu where it says "Extract . . ." just above it is the extract option which is highlighted. Click on that to extract the selected files.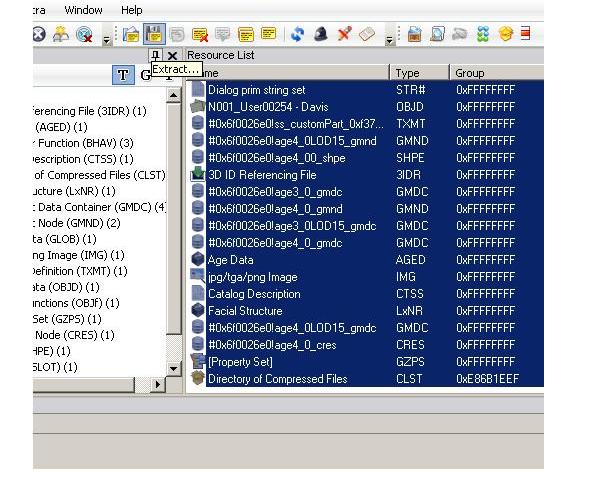 A dialog box will open asking you to Browse For Folder. Browse to the desktop, click Make New Folder, label the folder Davis data file, and then click OK.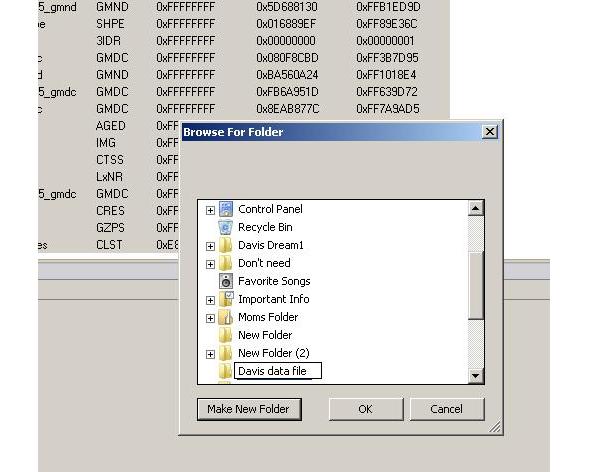 You will see this next. Press OK. Now reload the Neighborhood in SimPE and we shall continue.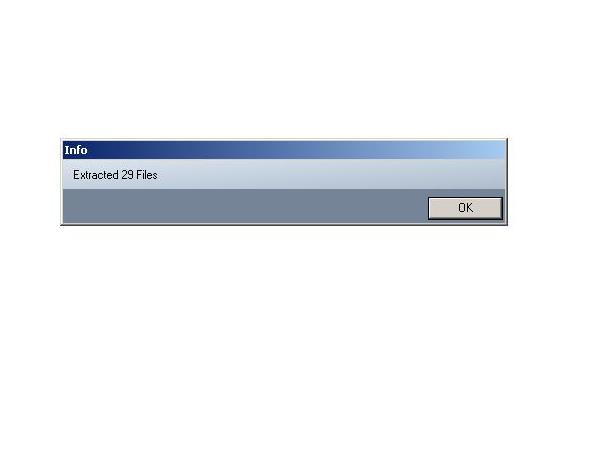 This is the real Davis Dreamer. His picture has a blue. The blue means he is unlinked. First we are going to relink him.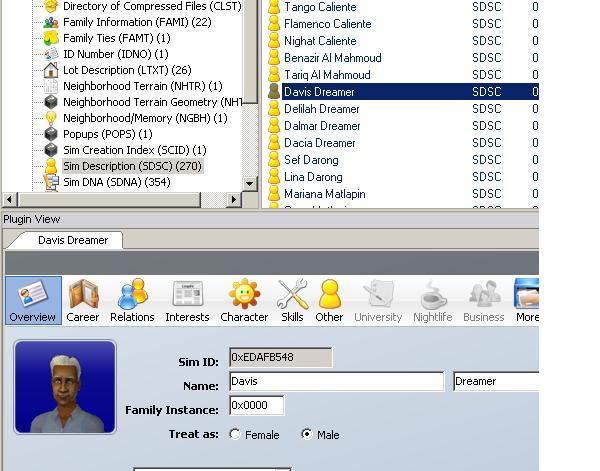 Go to the Other tab. See under Misc where it says Unlinked: 0x0001. Change the 1 at the end to a 0.
= 0 meaning (zero)
It should look like this now.
Now look for a button that says Commit and press it. Mine looks like this.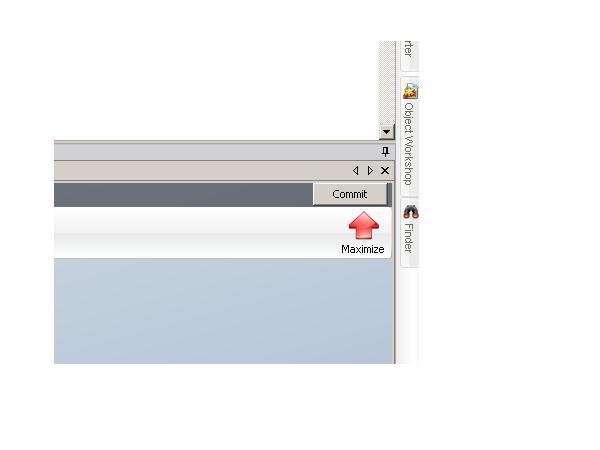 Now go up to File and Save.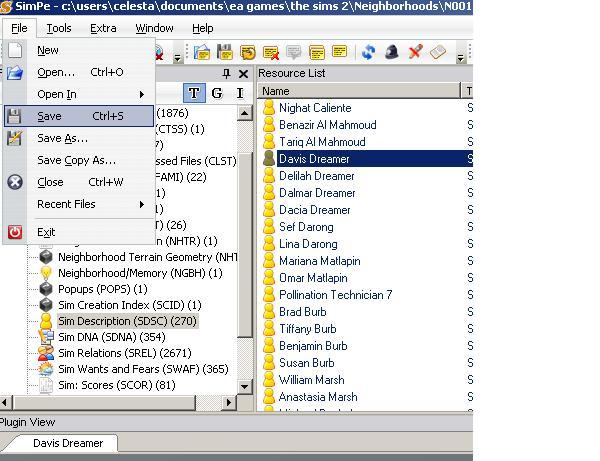 See now he's not blue anymore. Now he's red. This means he has an incomplete character data. Now it's time to replace his missing files and bring him back to the living.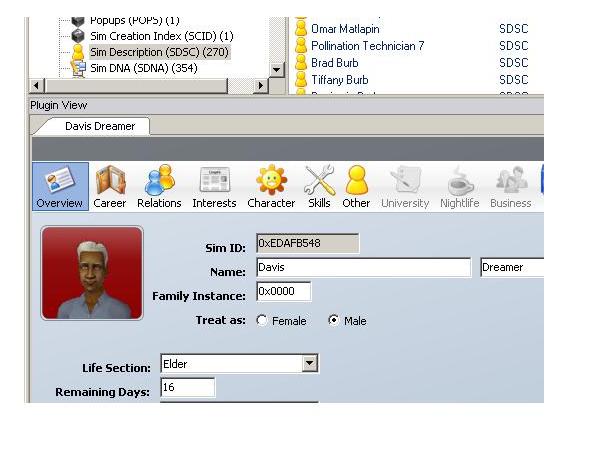 Go to More and click Open Character File just like you did before with the Davis replica.
Where it says Resource Tree and Resource List this is Davis' character data file. See how it doesn't have has many files in it? That's why you couldn't resurrect him in your game, but we're about to change that. Resize the SimPE window so you can get to your desktop and open the Davis data file we put there earlier, and then open that file. Remove 7 files from the replica's extracted data folder: Catalog Description, Directory of Compressed files, jpgtgapng image, Object Data, Object Functions, Version Information, and package. These we don't need. You can put them in the recycle bin or a Don't Need folder like I did, shown above.
Now here's Davis' character file before we begin. See where is says "Add . . ." at the top, just above that you see a highlighted icon, click on that. That is the Add option. You will have to browse to the Davis data file on your desktop.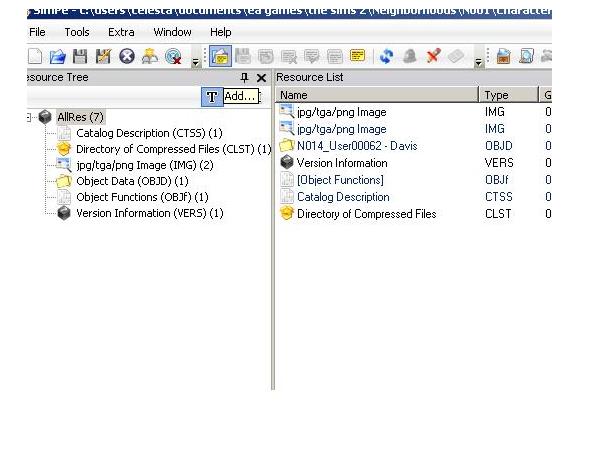 Let's start with the first file, Geometric Node. Highlight it and press open.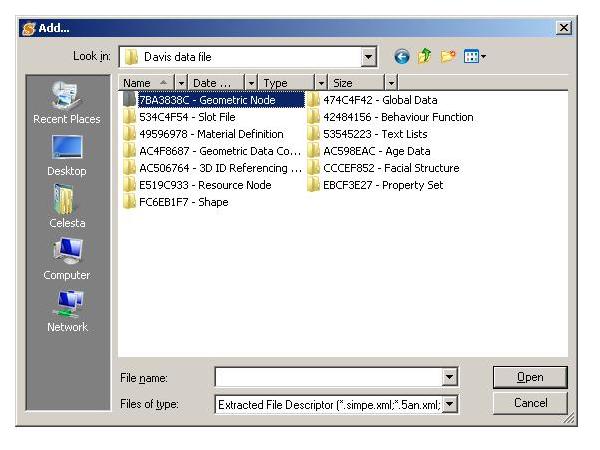 See the difference. Now Geometic Node shows up in the window to the left and those two strange looking files appear in the window on the right. They are in italics because we haven't saved yet.
Before we save, we are going to Add . . . all the remaining files from the Davis data file first. Repeat the same procedure as we did to add the Geometric Node file for all the remaining files.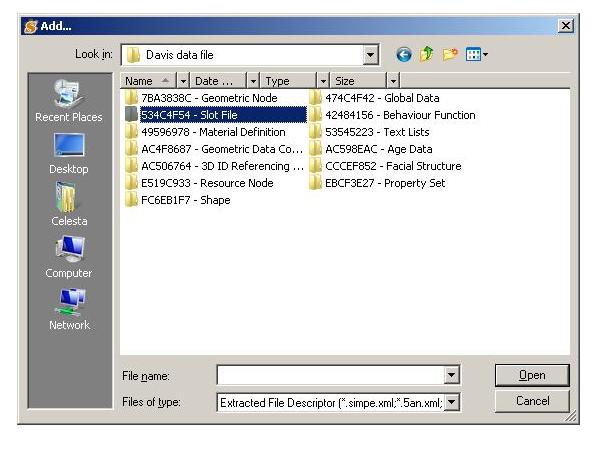 Some of the files will have more than two. Highlight all the files in every folder and press open to add all the files to Davis Dreamer's character data. Once your finished we have one more thing to do in Davis' character file before we Save and finish our work.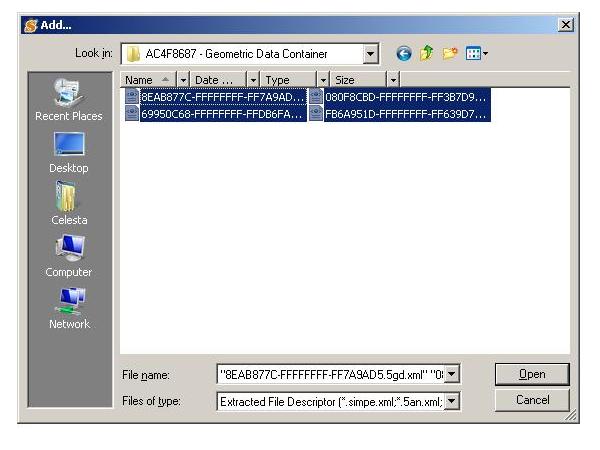 While still in Davis' character file, find the file in the left window called Object Data, and highlight the file N014_User00062-Davis in the right window. The User file will open in the Plugin View window below.
In the Plugin View window way over to the right find where it says Obj.Type open and choose Person.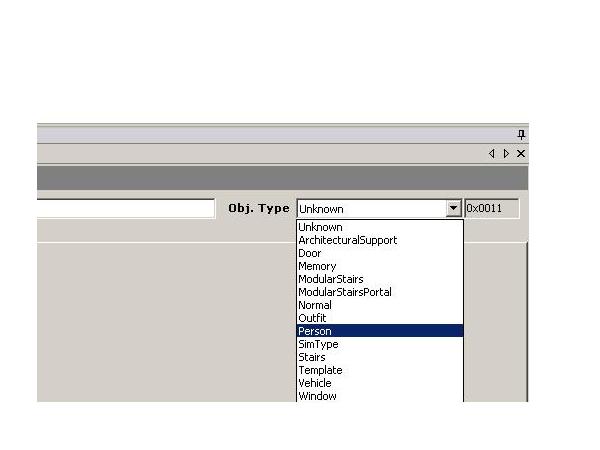 With Person selected, now find and press the Commit button. Mine looks like this. Yours might be different, but look for a commit button and press it.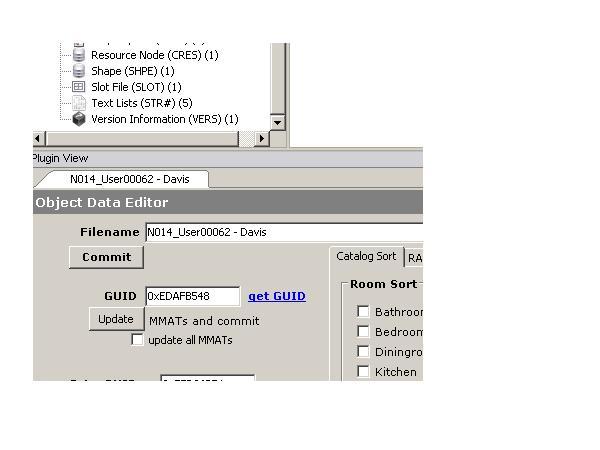 Now it's time to Save our work. Watch all the files in italics change to regular type. That's how you will know your work is saved.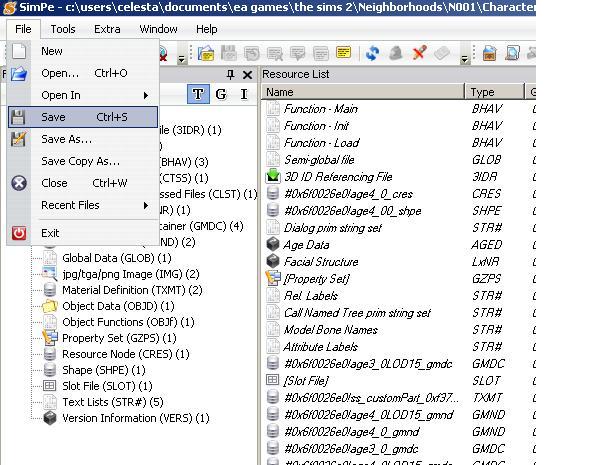 Now if you reload the neighborhood and check Davis Dreamer's description file now it should have a gray background. No longer red or blue. This means Davis is now a linked and resurrectable sim.
Here we are at Darren's house. Hey it's father's day this weekend and he's been missing his dad. So he's going to bring him back to life. You will need to get Darren a resurrecto nomitron on the lot to do this. I used boolprop and clicked on the newspaper and got him one. Plus I used motherlode to give him enough money to pay the Grim Reaper.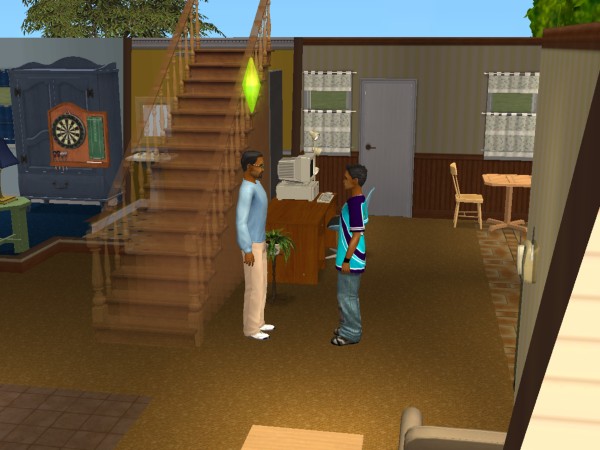 See Davis Dreamer's picture appears in the resurrecto nomitron window. Click on his picture and press the check mark.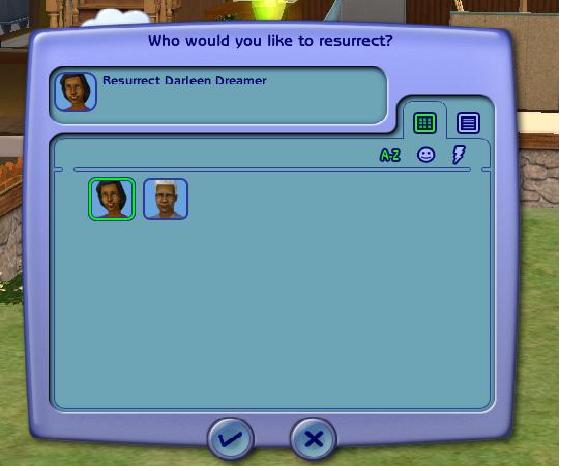 In a cloud of green smoke he comes . . .
Davis emerges from the cloud . . .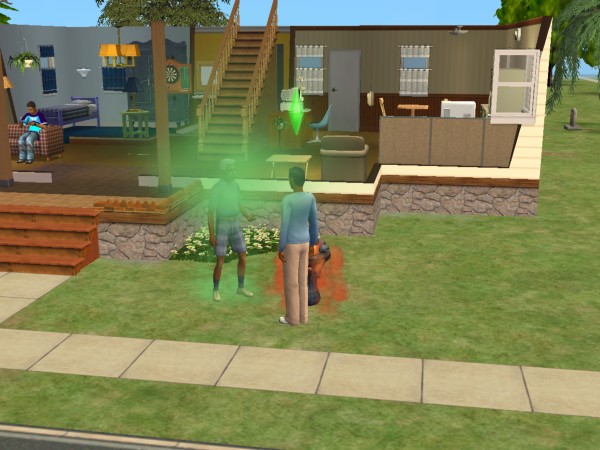 He says yippy!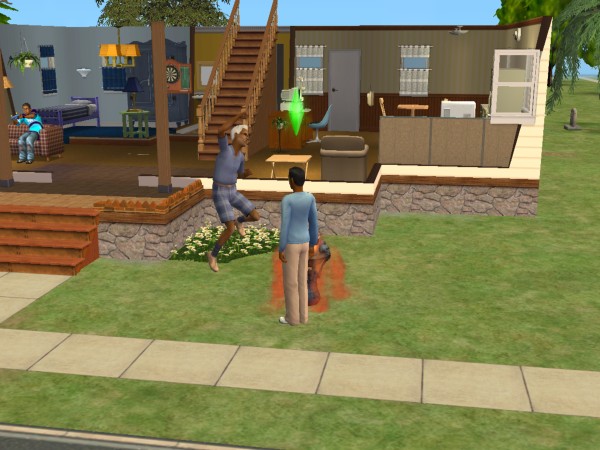 How about that. Three living generations of Dreamer men! You can use this same method to resurrect Darren's mother Delilah. This method is not necessary to resurrect Darlene. She already has a complete data file, but she does need to be relinked just like we did with Davis. To find replicas to use, you either can make them yourself or you can download the ones I have made thus far from my sim uploads. I've had many requests and will be bringing you more premades soon. Keep checking back to my simpage for more of them. If they are missing, they may have been culled. Sign my guestbook and I will reupload them.